Regular price
£637.99 GBP
Regular price
£828.99 GBP
Sale price
£637.99 GBP
Unit price
per
Sale
Sold out
SPECIFICATIONS
Origin: Mainland China
Model Number: NEJE 3 max
Is Smart Device: YES
Condition: New
Certification: CE
CNC or Not: CNC
Brand Name: NEJE
Top Engraving Capability: A40640 is a classic creative master dual-beam zoom laser module, which is the world's first dual-beam laser diode engraving and cutting module with a zoom design. 10W+ continuous output power, down to 0.04mm focal length, gives the A40640 the best metal engraving capability, fast grooving capability, and thick material cutting compatibility, making it the most widely used wide range of modules. It has very special and top artistic performance in engraving stainless steel grayscale, stone engraving, glass engraving, hardwood relief, canvas art and other materials

Performance Improvement: The optimized A40640 II has higher cutting reliability. The short focus is suitable for carving hard materials such as metal stone and cutting materials with high density such as mdf; The long focus has better depth of field and smaller included angle for cutting thick wood and other materials. The excellent design makes the A40640 have a very strong vitality from the first creator of high-power diode laser to today. Due to the high power density, it has an equivalent application higher than 20W (optical power) laser in large area image engraving. If you only consider 1 module to help you solve all the needs, it is the best choice

Large Engraving Area & Meet Various Engraving Needs: 460x810mm is the largest engraving area on the market. At the same time, under the NEJE Win software, the engraving area can be expanded to 1030x810mm through the accessories provided by NEJE(This accessory needs to be purchased additionally). You can engrave on more than 100 materials such as balsa, wood, plastic, leather, black acrylic, etc., unleash your creativity to meet your various needs

Sturdy Structure & Easy Installation: NEJE 3 Max laser engraver machine adopts an all-metal structural frame, which makes the machine more stable and durable, and improves the engraving accuracy. NEJE 3 entire engraving machine adopts a modular design, which is easy to assemble, repair and update machine parts. The basic frame only needs 6 screws to complete the installation, and you can install other accessories according to your needs

Extensive Software Compatibility: NEJE 3 Max laser engraver for wood and metal is compatible with various mature engraving software on the market (LaserGRBL&Lightburn), support Win 7/Win 8/XP/Win10, and Mac & IOS system. NEJE 3 Max has added APP wireless control function, under NEJE software after the image uploaded, you can unplug the USB cable for offline use. Also added low light display function in lightburn working mode

Professional Technical Support & After Sales Service: NEJE is a manufacturer that independently develops and produces core materials such as laser modules and software, and is committed to providing customers with the best products and services. NEJE offers a 2-year warranty on products sold. If you have any questions, just visit our support website and get professional technical support in time
Packing List
NEJE 3 Max Machine(All functions of the whole machine are tested, and only 6 screws are needed to complete the assembly) x 1

A40640 Laser Module with air Assist Kits x 1

12V 5A standard certified power adapter x 1

USB Cable + Manual + Quality Card x 1

Goggles x 1

L-shaped Crawler Aluminum Profile x 1

Crawler x 2

12V Valve Control Kit (less than 1.5mpa) x 1

12V Relay Expansion Control Kit (Extra AD or DC power Max 2500W) x 1

Door Control Kit x 1(The length of the control line is 1 meter.)

Screw Nut Wrench Screwdriver Belt Installation Package x 1

Test Material Package x 1
Excellent Works
BUILD A POWERFUL LASER SYSTEM

In order to ensure that the product is absolutely reliable after each user receives the product, NEJE has done a complete machine test for each device, you only need to simply install 6 screws to complete the initial assembly.




It is recommended to install the X-axis drag chain support frame first, and then install the X sliding assembly;




The M7 relay module is generally used for the control of the smoke exhaust system. Some users also use it to control the oxygenator, which is not very safe! M8 air valve is generally used to control the air circuit of the user. You need to cut the air pipe according to the actual situation, and connect the other end to the air compressor or other air source; Y-R motor don't forget to connect.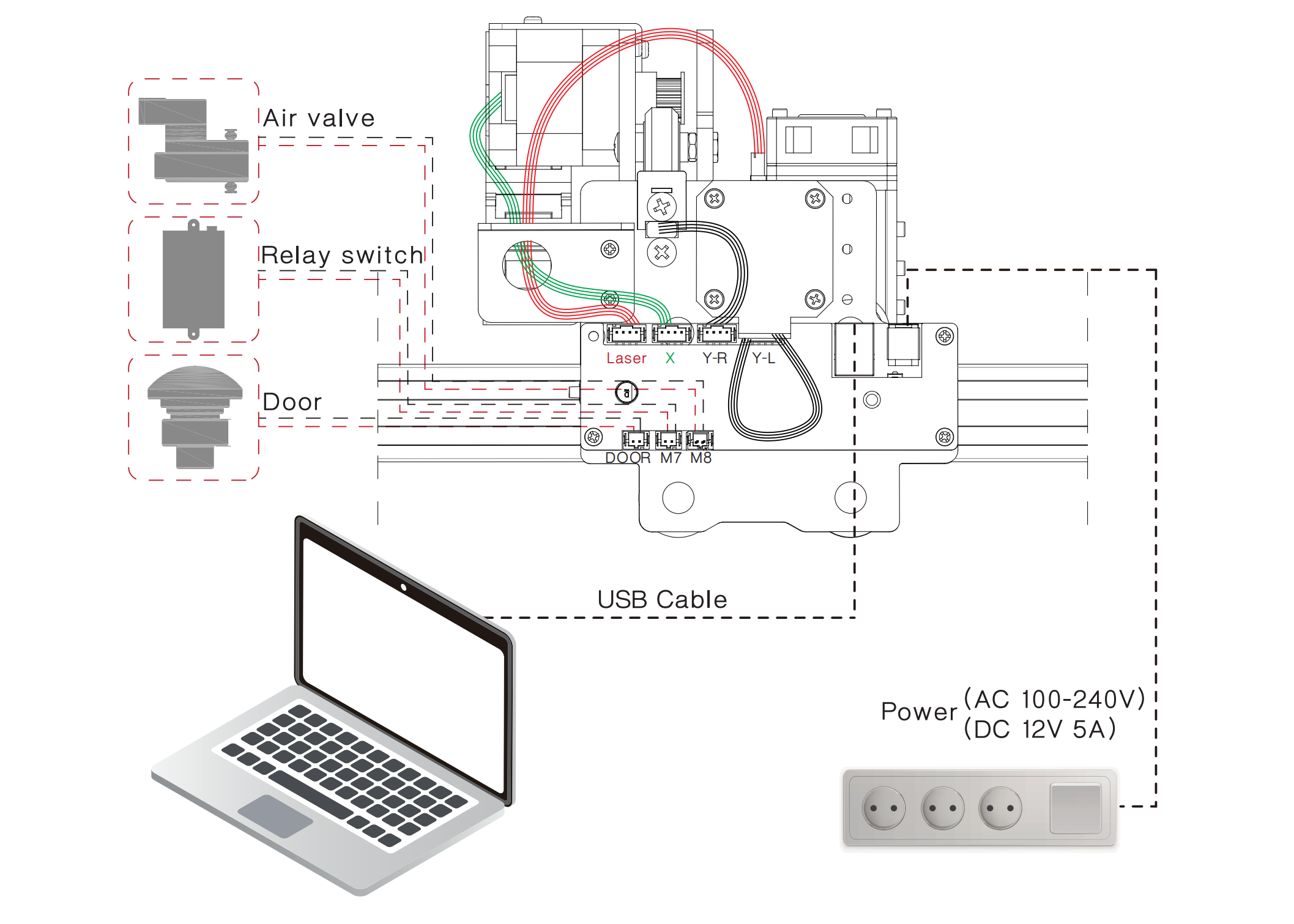 M7 relay expansion accessories, can be used to control AC or DC power supply smoke exhaust system, can also be used to control other circuits, used as M8, there are safety risks when operating high-voltage circuits, requiring professional operation; M8 valve expansion accessories, can be used To control the air compressor switch;


Frame Size (L - W -H):   590x980x160mm
Working Size ( X - Y):  460 x 810mm, area extended design
Dot Pitch: 0.075mm
Pixel:  6133 x 10800 px
Frame Material:   All-aluminum alloy and PC material hybrid frame
Structure Technology:  Y-axis fit adjustable design, X-axis stress fit assembly
Structure Feature:  Fit, High precision, stablize, smooth, no oil, easy maintenance, long life
Vertical Carving:  Yes
Motor Size: 42 x 42 x 40mm
Motor Drive Current: 0.9A
Module Height Adjuster: Yes
Limit Switch: Yes
Home: Rear Left
Origin: Front Left
Max Move Speed:   X:1000mm/s,Y:750mm/s(with A40640 module 204g)
Control System
MCU: 32-bit MCU
BLE: Yes
MEMS: Yes
Input: 12V 5A
Compatible Modules: All NEJE 12V 4pin Laser Moudle
ON/OFF Switch:Yes
OTA Upgrade
:
Update NEJE firmware, GRBL firmware, update latest software via NEJE Win software.
LaserGRBL
: Yes, Added low light function, added M8, M7, emergency stop extended automatic control, optimized GRBL interaction.
LaserGRBL
: Yes, Added low-light display and can be adjusted, added M8, M7, Door function automatic adaptation.
NEJE Win Software
: Yes, It is recommended to open the NEJE software to update to the latest firmware for the first time use.
Off-Line Working:
Yes, In NEJE Win software and NEJE APP mode, when the image is transferred to the device, it can work independently from the computer or mobile phone.
Repeat Engraving
:
Yes, After the engraving or cutting is completed, the device will not lose the location information, if you are not satisfied with the work, you can continue to work.
NEJE iphone/iPad APP
: Yes
NEJE Cloud Gallery Service
:
Yes
Software Download
: Https://neje.wiki
Radiator Size: 40 x 50 x 60 mm
Weight: 204g
Speed of the Fan: 10600RPM(Double ball bearing)
Interface: PH2.0 4Pin
Drive Design: Built-in
Input: 12V 4A +
Optical Power: 10W +
Wavelength: 450nm
Laser Class: Class 4
Number of Diodes: 2
Light Source: 2 X LD + FAC Tech + C-Lens
Focus Spot : o.13x0.13mm - 0.18xo.18mm,
focus on 33mm: 0.13 x 0.13 mm,
focus on 55mm: 0.18 x 0.18mm
PWM Input: VPP(3.3-12V), Recomend 1KHz,
Quiet Design: Drive the built-in control ic, judge the working state and adjust the fan work.
Max Cutting & Carving Depth: 18mm (The data is tested by NEJE users, and it needs to be done under more accurate focusing and adding correct and certain strength of air assist.)
Brushed Stainless Steel: Yes
Mirror Stainless Steel: Yes
Laser Module Warranty:  2 Years
Control system warranty:  2 Years
Hardware warranty:  1 Year
The conditions of NEJE's free after-sale policy must be met under the conditions of non-human disassembly and misoperation and use in the correct environment. If the wrong voltage is input, or the lens is damaged due to lack of maintenance, it is not within the scope of free after-sale; for maintenance instructions, please refer to NEJE.WIKI
Please Note
If there is a customs spot check, the customs duty is borne by the customer,hope you can understand.

Do not accept bad reviews and disputes due to tariffs.
Note:Polish warehouses and German warehouses cannot be shipped to the Canary Islands, Balearic Islands, and Ceuta. Spanish warehouses cannot be shipped to the Canary Islands and Ceuta.Customers in the above regions should not choose overseas warehouses for delivery.
Share
View full details